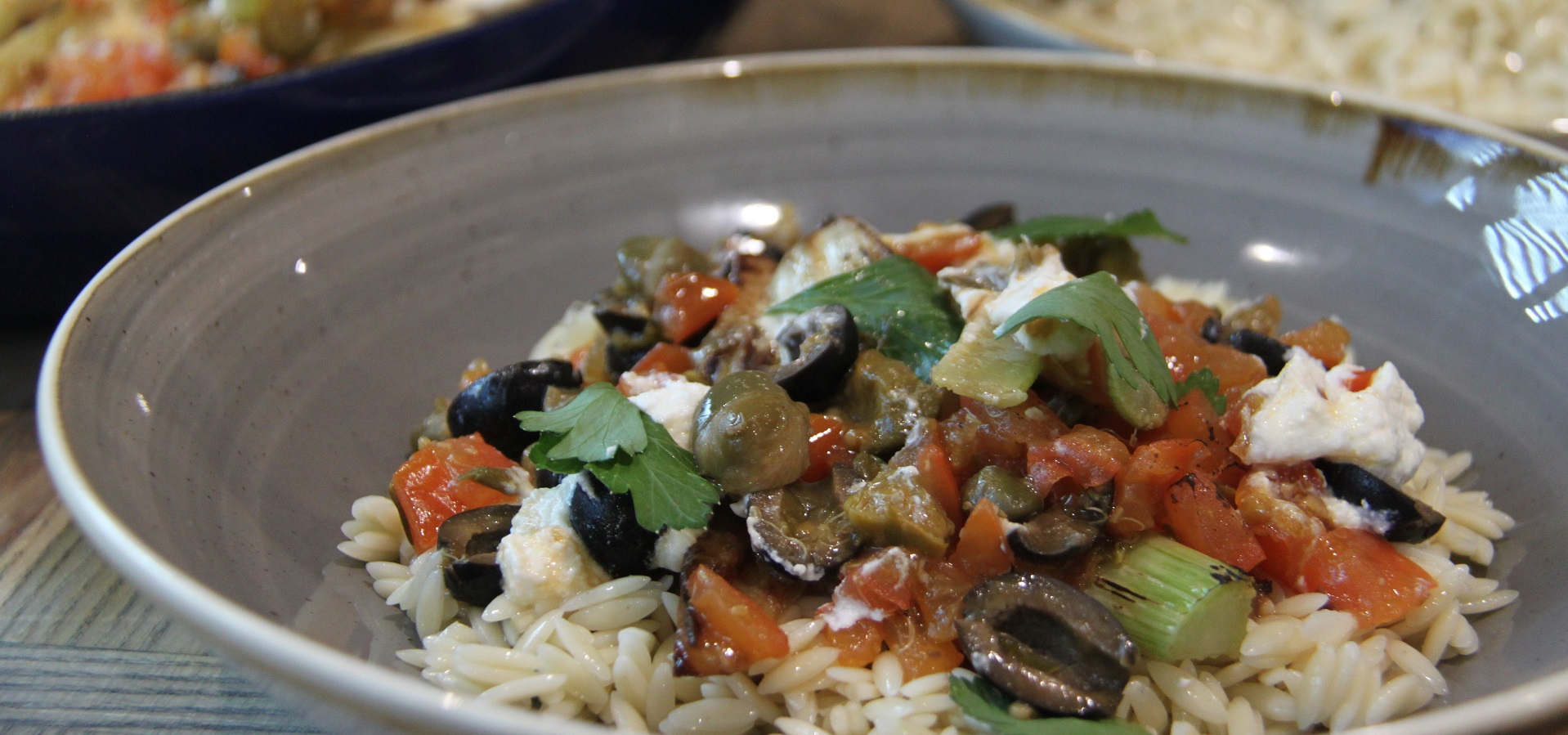 Braised Fennel & Ricotta with Orzo
ingredients
3 medium fennel
320g tomatoes, cut into 1cm dice
200g ricotta cheese
8 garlic cloves, peeled
½ lemon, juiced
20g capers, roughly chopped
24g black olives, halved
½ lemon, juiced
1 tbsp red wine vinegar
2 thyme sprigs, leaves picked
2 tsp caster sugar
120g orzo pasta
2 tbsp rapeseed oil
1 packet flat leaf parsley
500ml prepared vegetable stock
nutrition facts
Per average serving:
energy
1184 kJ / 283 kcal
of an adult's Reference intake (8400kj / 2000kcal). Typical values per 100g: Energy 268kJ/64kcal
method
Tidy the root of the fennel and remove the fronds (reserving for later). Halve the fennel length ways then slice along the longest side into 1/2 cm slices.


Combine the lemon juice with the red wine vinegar.


Place a large sauce/frying pan over a medium-high heat and add 1 tbsp of the rapeseed oil. Brown the fennel until well caramelised on both sides. Remove and set aside.


Add another 1 tbsp rapeseed oil to the pan and add the garlic cloves. Sauté until the garlic is scorched all over.]


Reduce the heat to medium and add the lemon juice and vinegar. Reduce until it`s about 2 tbsp of liquid.


Add the chopped tomatoes, half the stock, capers, thyme, sugar and olives and simmer for 3-4 minutes.


Return the fennel to the pan. Add the remaining stock cover tightly and simmer for approx. 12-14 minutes turning once throughout.


Meanwhile cook the orzo pasta according to pack instructions.


Uncover the pan when the fennel is soft and reduce the liquor until it has thickened.


Top the orzo with the fennel and reduced sauce and finally dot with the ricotta and parsley.
Important information
*Allergen information is compiled using data obtained from the manufacturer of products we have used. If you decide to use a different product there may be a different allergen declaration, so please check the labels of all the ingredients you purchase to make this recipe. This information is for guidance only.
Nutritional information has been compiled by Registered Nutritionists using an industry standard software system (FDH Saffron). Please bear in mind that the nutrition will change depending on the products that you use to make this recipe. This information is for guidance only.