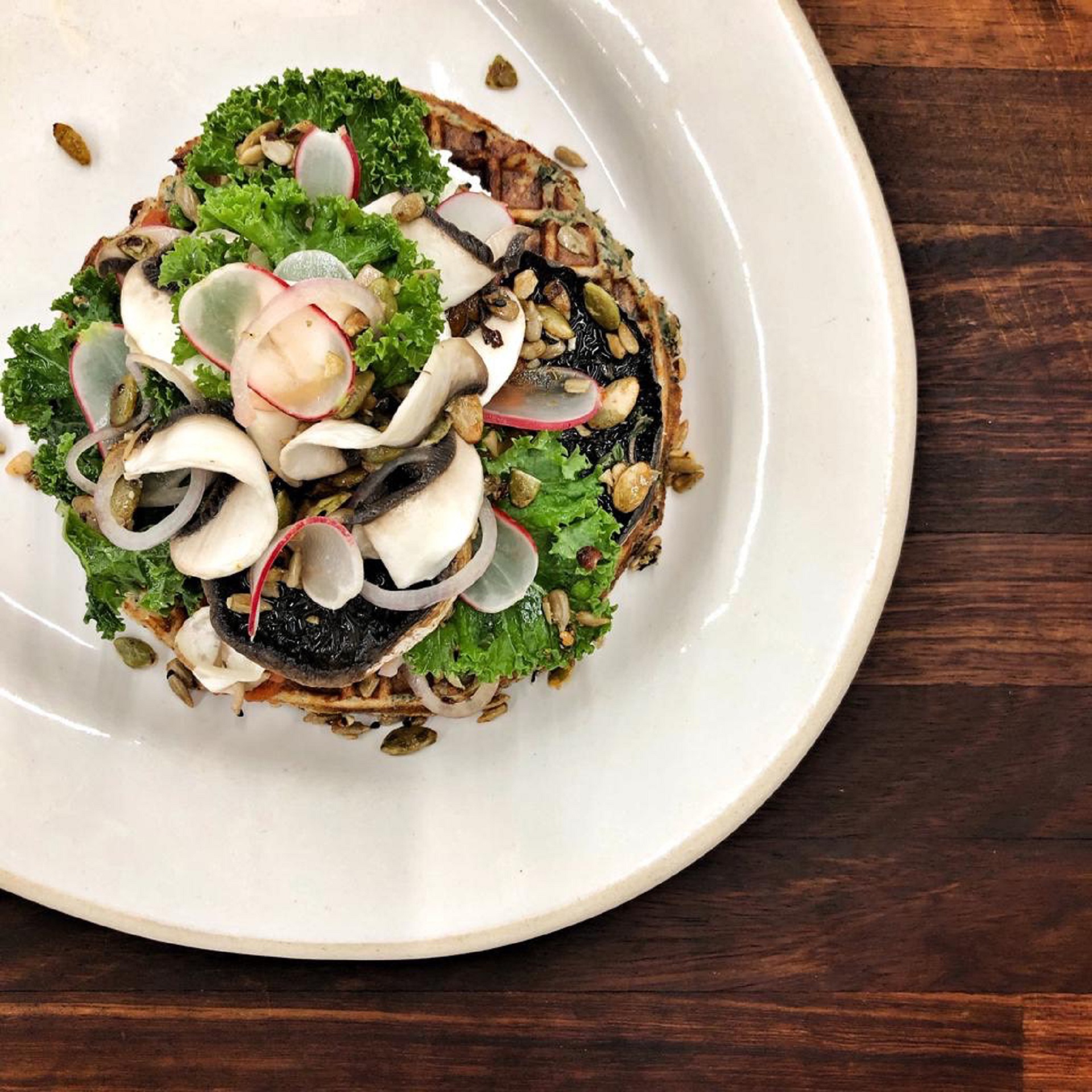 Buckwheat Waffles with Tomato Chutney
ingredients
For the chutney
- 2 tbsp extra virgin olive oil
- 2 tsp black mustard seeds
- 1 tsp turmeric
- 1 tsp cumin seeds
- Thumb size of fresh ginger, grated
- 2 green chillies
- 2 garlic cloves, peeled and chopped
- 400g tinned plum tomatoes
- 2 tbsp white wine vinegar
- 2 tsp soft brown sugar
- 1 tsp black pepper
- 1 tsp salt

For the waffle
- 4 spring onions
- 15mls extra virigin olive oil
- 100g spinach
- 60g spelt flour
- 130g buckwheat flour
- 1 tsp linseeds
- 1 tsp poppy seeds
- 1 tsp baking powder
- 1 egg
- 75g strong cheddar cheese
- 375mls buttermilk
- 2 tbsp pumpkin seeds
- 2 tbsp sunflower seeds
- 1 tsp sesame seeds
- 1 tsp nigella seeds
- 500g portobello mushrooms
- 2 sprigs of thyme
- 2 garlic cloves, peeled and chopped
- ½ bunch of radish
- 1 banana shallot, chopped
- 100g curly kale
- 2 lemons
- 120g goats cheese
nutrition facts
Per average serving:
energy
2035 kJ / 486 kcal
of an adult's Reference intake (8400kj / 2000kcal). Typical values per 100g: Energy 268kJ/64kcal
method
For the chutney 
1. Heat up 2 tbsp of olive oil and add the mustard seeds, allowing them to sizzle.
2. Add the turmeric, cumin seeds, grated ginger, green chilli and chopped garlic. Fry for 2 minutes until fragrant.
3. Add the tinned tomatoes, vinegar, sugar, salt and simmer slowly for 30 minutes until the chutney starts to thicken.
4. Season with salt and pepper
For the waffles                                                                                                                               
1. Fry the spring onions in 15mls of olive oil until browned, then add the spinach and cook until wilted. Cool and chop.
2. Mix the spelt flour, buckwheat flour, linseeds, poppy seeds and baking powder together. Add the egg, cheese and buttermilk. Season and ensure all ingredients are well combined.
3. Toast the pumpkin, sunflower, sesame and nigella seeds at 180°C for 8 minutes.
4. Peel 4 mushrooms, remove the stalk and sprinkle with thyme leaves and slithers of garlic. Drizzle the mushroom with olive oil and roast in the oven at 180C for 6 minutes.
5. Slice the remaining mushrooms as thinly as possible as well as the radishes and shallots, place in a bowl and add the juice of 1 lemon.
6. Pick and wash the kale and dress with the juice and zest of half a lemon and a little olive oil.
7. Heat up the waffle iron and place 160g of waffle batter in the iron and cook for 3 minutes.
To serve: Top the waffle with a spoon of chutney, a spoon of goats cheese, the kale and finally the radishes, sliced raw mushrooms and shallots. Top with toasted seeds.
Important information
*Allergen information is compiled using data obtained from the manufacturer of products we have used. If you decide to use a different product there may be a different allergen declaration, so please check the labels of all the ingredients you purchase to make this recipe. This information is for guidance only.
Nutritional information has been compiled by Registered Nutritionists using an industry standard software system (FDH Saffron). Please bear in mind that the nutrition will change depending on the products that you use to make this recipe. This information is for guidance only.